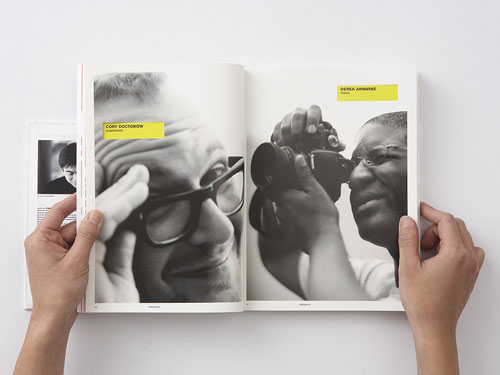 Studio photographs on this page CC-by Min+ (敏佳)
With great people like Christopher Adams and Joi Ito releasing this fabulous free culture powered project under CC Attribution license, one can go and download most of the content and have some form of experience for free (as long as they give attribution back). I can go and download the images and essays right now and make my own images or my own book called FREE LOLS. I just started it. Check out the first image!

Original Photo by Joi Ito of Lessig
I received this nice email today from the editors of the book:
Dear Jon ,

It pleases us very much to announce that an exceptional new book, <FREESOULS captured and released by JOI ITO> has just come out. We would like to inform you that a limited quantity of books are being made available directly from the publisher.

We wanted to send you this important message right away, because your portrait is featured in Joi's new book.

First of all we invite you to browse the FREESOULS book:

Then please consider ordering a copy or two:

We also have a way for you to spread the word to your friends, family and admirers! Below is a link to your portrait, with more information about the book:

http://freesouls.cc/pic/463728390/

Thanks for being a part of our community, and for making this project possible.

Kind regards,
The FREESOULS Editors
There still is nothing like having a high quality limited edition book in your hands made by your friends that supports shared ideals. Thus, not only is it good to have one of these books, buying products that support the FREE CULTURE ethos further underlines that giving gives you more.
Go buy the book, and I challenge anyone out there to take the content from the book and make a remix, a new book, or even help on the FREE LOLS book
We could use the tag, freelols